MORE Women's Conference 2023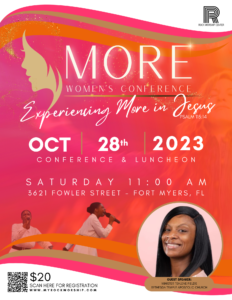 REGISTER TODAY!
Don't miss this powerful Women's event! This conference will bless your soul and inspire your walk with God. There will be anointed Worship, and Word from God by licensed minister, mother, and Pastor's Wife Tshlene Fields. Conference will immediately be followed by a delicious lunch. Space is limited so be sure to purchase your ticket TODAY!
Psalm 115:14 "The Lord shall increase you more and more, you and your children."
SPEAKER BIO:
Hello I am Tshlene Fields! I was born and raised in Tacoma, Washington and lived there most of my life. I relocated to Indianapolis, IN in 2007 where I met and married my husband Barry Fields Sr. We have been married for 14 years, and we have 4 beautiful children, ages 13,12,10, & 8. I homeschool all of my children, while being a licensed minister, holding a degree in business, and pastoring World Evangelism Center church in Indianapolis, Indiana for the past 7 years. We recently merged with Bethesda Temple Apostolic Church, and we are very excited about what God is doing!
We love to capture life as God molds us into who He has called us to be! We share those experiences through our family YouTube Channel called "Life With The Fields" where we have fun building memories, loving others, and exploring new places!
I have a personal passion for family, people, the Word, prayer & intercession and outreach. I facilitate connection groups, Bible Studies, ladies events, prayer lines, prayer walks, and street meetings.
For fun I enjoy thrifting, cooking healthy meals for my family, home decor, gardening, and bike riding.
God has blessed me with so much, and I am continually thankful everyday for what He has given me!